About
nefties.com
You can't say NFTs without nefties.
NFTs are in their infancy. The early movers will be the beneficiaries of this revolutionary technology.
What value does this domain name have?
the URL is intuitive to NFTs
although intuitive to NFTs, the spelling is distinct (this helps while searching and S.E.O. - try it)
pronouncable in English
only two syllables
spellable in English
dotcom extension
Defi is here and it's growing. This is how finance will be carried out in the future. NFTfi isn't really here yet, but it will be. Then, Defi and NFTfi will be indistinguishable.
the metaverse in virtual reality will hold everything, everything, EVERYTHING in digital currencies and NFTS
the metaverse was recently projected to be worth $10 trillion (with a T) in a decade
nefties.com stands poised for the takeoff of NFTs which will happen
every time someone says "NFTs", they are saying the domain name and the URL - you can't say NFTs without nefties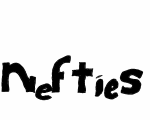 You can't say NFTs without nefties.
Get more
info

or make an offer

Contact: crrdlx@protonmail.com

All contact info for crrdlx: https://peakd.com/@crrdlx/about