Welcome to
nefties.com
nefties.com is about NFTs. Whereas cryptocurrencies are over a decade old now, NFTs are infants on the verge of booming. If you're viewing this site, you've likely heard of the CryptoKitties NFTs that crashed onto the Ethereum blockchain a few years ago. But, the NFTs are growing onto so many other blockchains as well: WAX, HIVE, NEO, EOS, FLOW, NEAR, and I'm sure there are many others. It is early and it is happening.
If you're asking, "What's an NFT?", read the "Learn" page. Or, go to the Get Started page and get your first, gift NFT.
If you already know about NFTs, then you likely get it. You know that they're here to stay and that they are growing daily. You can get a free one too.
Either way, I'm happy you're here. :)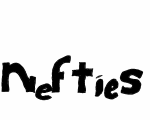 You can't say NFTs without nefties.
The nefties.com domain is for sale.
Learn about why this domain has value on the "About nefties.com" page.